Membership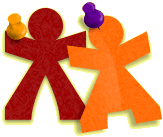 Welcome to my Manila site!
My name is Ann Kisthart. I am a substitute teacher for the Scranton School District in Scranton, Pennsylvania. I am also a graduate student at Wilkes University. My concentration is the Classroom Technology program. This is a site I am creating for a class entitled Authoring Systems/Instructional Design. Please let me know your thoughts on this site by emailing me at kisthaa@wilkes.edu

Please proceed to Introduction to begin viewing the lesson.