Membership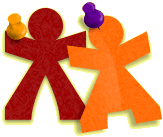 Welcome to my Manila site!
| | |
| --- | --- |
| Miss Stack's Roaring Twenties WebQuest | |

---

---

Welcome to Miss Stack's Homepage! Here you can begin your Roaring Twenties WebQuest, through which you will create a mock newspaper using your research. Everything you need can be accessed through the button links in the left margin of each page. Please follow each link, step by step. There are additional links for research guides throughout the site. This is your starting point, but do not limit your research to the links I gave you. Search together and learn together...about an era filled with excitement and change. Welcome to the Roaring Twenties! Please move on to the introduction button in the left margin. Have fun!

---

Listen to some samples from the Jazz Age:


---




Visit Lake-Lehman School District

---




Please email Miss Stack your comments or questions.
This Page was last update: Wednesday, July 25, 2001 at 8:27:51 AM
This page was originally posted: 7/11/01; 7:15:52 AM.
Copyright 2018 ED527SS
This site is using the Bulletin Board 1.0 theme.